John cutting a large chunk of tiger eye..
A tranquil Mary river scene painted by Cecile. When it is not in flood!
It

started out simply as a hobby for John Steenbergen. The great outdoors always seemed to get the better of him, so whenever there were days to spare, he would pack the old faithful van with camping gear, fishing rods, picks, shovel and, of course, the gold pan, setting off to any stream, river, or lake to catch that elusive trout, or pan for the lovely yellow stuff - Gold! As time went by a wife, Cecile, and four children shared the same interest, picking up pretty pebbles, or curious and interesting looking rocks and crystals. At the end of the day the campfire would be lit by Cecile and and the freshly caught rainbow trout placed in the pan for the

evening meal, while John would set up the tent for the night ahead. Exploring these mountains, rivers and lakes was a time to be treasured forever.

Now, over forty something fossicking and collecting years later, they are the proud owners of one of Australia's largest

r

ock shops situated on the Bruce

H

ighway linking Queensland's major cities, as a hobby John runs several very popular rock & mineral related websites.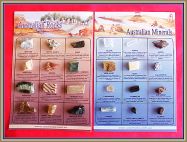 Coolrocks proudly present our new product perfect for beginning geologists, home school families and schools. Australian Rocks, the pink card, has a range of Igneous, Sedimentary and Metamorphic rock specimens. The blue card has a variety of twelve Australian Minerals. Any quantity available!
People from many parts of the world find their way to Cooloola Rocks & Minerals, just south of Gympie on the Bruce Highway.
Open seven days a week from 9.00am to 5.00pm, the centre is a pleasure to visit. Serious mineral collectors may go in looking for specific specimens, while other visitors like to browse around the extensive private collection.

Our shop and home are on the old Bruce Hwy
just south of Gympie Qld
Cooloola Rocks & Mineral centre is one of Australia's major tourist attractions. Thousands of tourists from all over the world visit the centre regular. The shop boost a huge array of Rocks, Minerals, Fossils. ect. Has it's own private museum attached. The shop is set in lovely park surroundings. Make it a date and come and visit us.
A stunning display of huge mineral specimens. These are mainly all Australian specimens.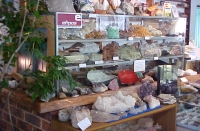 Always busy!
Check out John busy packing rocks
filling orders.
JOIN OUR VERY POPULAR Facebook GROUP!
https://www.facebook.com/groups/cooltreasures/
Coolrocks mineral Crystal Treasures Aust & World Wide Rockhounds paradise.
John Steenbergen.
1 Lobwein road, Kybong, Queensland.